Welcome on the Aurenko Snake Webpage!
Aurenko Snake is a remake for pc of Nokia's popular handygame "Snake".
You can download it in the download section.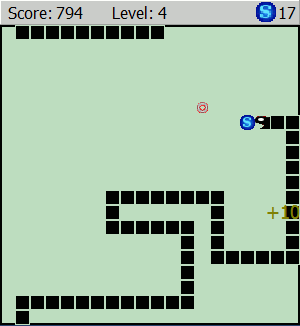 The aim of the game is to eat/collect as much corns as possible with the snake, which you can control by using the arrow keys.
With each corn you eat the snake becomes longer. So pay attention: If you touch yourself, the game is over.
Sometimes an insect appears, that increases your score with a higher amount than a corn, when you eat it, but doesn't elongate your snake.
There are also powerups, that have different effects on the snake.
You also can play in a maze; in this mode walls are placed on the field, which you must not touch.
Such mazes can be created in the editor and uploaded to our maze archive, where you can download them.